The process of children's parties is very beautiful, but it needs its own preparation. It's not just the food, the drinks and the cake … There are so many things you can organize and prepare to excite the little guests. But let's not forget that a lot can be done at a low cost if you start organizing the party early and don't leave everything for the last minute.
In our Paw Partol photo frame we showed you how to create your own cheap and handmade photo frames as a gift for little guests. However, it's obvious that this can easily be turned into a gift for another party theme. All you have to do is change the printed Paw Patrol images and replace them with the ones that are relevant to the topic you are interested in.
So at this Paw Patrol party I was trying to figure a nice way to offer our gifts. One thought was to get wrap glue and ribbon and the other to get gift bags. But again, I was not pleased because I wanted to make an effort and that I had dealt with this issue, something that some might find insignificant in relation to the whole preparation. However, I wanted to make things as accessible as I had in my mind.
So, after searching and getting ideas, I came up with the idea that I would take craft bags and decorate them in a way that was related to the theme of the party. Finally, this came true with the printing of sticker labels with puppies. All I had to do was to print and glue. Of course, I also chose to put ribbons to close the bag, to emphasize one more point. Another idea is to combine ribbons according to the color of the puppy shown in the bags.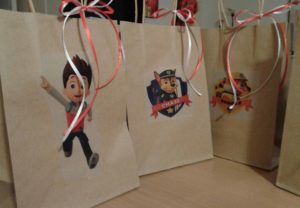 The result pleased me and seemed to satisfy even our little guests, as they saw such a detail and they were full of curiosity about the gift.
Pick up the theme of the party and follow this simple procedure and you will see the little ones shining out of curiosity as well as the parents showing great interest and congratulating you on the organization.


Beware only with the decoration! Don't overdo it! Don't forget … for our little friends anyway the birthday of the friend will be an exciting one! No exaggerations!
Good luck and have fun !!!
See also:
How to make marker-cases
Why Parental Engagement is important for our kids
What i have learned during breastfeeding
How to make your weekly meal plan
One Target Reward Chart for our kids – DIY