Easy homemade self-care products
In our post Make your face shine! We talked about the proper use of our facial cosmetics. We have essentially developed the use of all kinds of cosmetics and in what order we should use them.
But what about those who can't afford to buy so many face expensive care products? Aren't they worth taking care of themselves? Aren't they worth physical and psychological stimulation? Why can't they have the opportunity to freshen up to highlight their beauty and femininity? What about those who simply prefer to use the most natural products possible, even if it means that they have to create their facial care products?
For these reasons, we will show you some of the face products that you can create for your face care, almost FREE, with materials that we more or less all have in our homes (or that cost much less than the products of the trade).
I would like to refer first to recipes given to me by some friends and some blogs, for handmade face care products that they have been using for years.


1) Natural face and body peeling
For natural facial peeling, ideal for whitening (for resistant skin) we mix soda powder and drops of orange juice, while for body peeling, ideal for fighting cellulite, we mix oil, Greek coffee, sugar, and cinnamon.
2) Cucumber lotion
For oily skin because it tightens and reduces oiliness. Grate a cucumber, strain it well and keep the juice. Optionally, for extra purity, filter it through a paper coffee filter. Add a few drops of pure alcohol (it works as a preservative). Store in the refrigerator for 1 week. It is recommended to use it only at night to avoid sunburn.


3) Chamomile for hair
From a young age, I remember being told that chamomile makes hair wool… For blonde highlights, an equal proportion of chamomile tea with vodka and we spray the washed hair and dry it with a hairdryer.
4) Hair and face mask
Put a jar of prepared mayonnaise on dry wool, wrap it in cling film and a warm towel for 1 hour and bathe. Alternatively, it can be done with grated avocado (not recommended for blonde hair).
In addition, we have collected some recipes from various trusted sites and blogs, so that you too can get an idea of ​​the respective products, choose the ones that are most suitable for you and of course, why not, try them. We recommend that, because each body is different, try them first on a small area of ​​your face for cases where there are allergies and you do not know it.
Also, on the site www.botanologika.gr we found:
A) Anti-oil cleansing mask made of clay (for oily skin)
Cleansing mask for oily skin at https://www.botanologika.gr/2014/03/blog-post_34.html. Clay helps to cleanse, get rid of sebum, and brighten the skin. The cream is emollient and the olive oil is rich in antioxidants and vitamins (A, E). It should be used as soon as we prepare it.
You need:
1 tablespoon clay (green or white)
1 teaspoon sour cream
1 teaspoon olive oil
Mix the ingredients until it becomes a thick mixture. If necessary, add a little olive oil or cream to improve the texture. On a clean face, apply and leave for 20 minutes. Then remove with lukewarm water. It is good to put after a rich moisturizing product. We can, if we want, add 1 teaspoon of cucumber juice to have tonic properties of our mask as well as to regulate oiliness.


B) Anti-wrinkle / firming mask with yeast (for normal skin / for all types)
Yeast contains vitamins (D, E, B1, B2, B3, B5, B6), amino acids, and minerals. It can nourish and eliminate wrinkles. Lemon tightens and cleanses the skin. Carrot is rich in provitamin A which protects and delays skin aging. Wheat shrinks pores and helps cells regenerate.
You need:
2 tablespoons brewer's yeast powder
2 tablespoons distilled water or rose water
1-2 tablespoons carrot juice
1 tablespoon lemon juice
1 tablespoon water from wheat or wheat germ oil
Melt the yeast in the juices until it becomes a thick dough. If necessary, add water or yeast to achieve this. On a clean face, apply the mixture on the neck, face, and around the eyes. Leave for 20 minutes and then rinse with lukewarm water. We can apply this mask 3 times a week. If your skin is dry, add a little almond oil to the mixture, and if it is oily replace the rose water with lavender water. We take the water from wheat after we boil its seeds for Ί0-20 ′ and strain the mixture.


C) Deep moisturizing mask with avocado (for dry, dry, and sensitive skin)
Avocado helps not to dry the skin before its time, giving the moisturizing ingredients that the skin needs. Honey and rose water make the skin soft, while milk gives a unique glow due to the natural hydroxy acids it contains.
You need:
1/2 ripe peeled avocado
2 tablespoons rose water
1 tablespoon honey
1 tablespoon milk (whole)
1-2 tablespoons flour
Put the ingredients except for the flour in a blender or multi and beat them until they become a paste. Then add as much flour as needed so that the mixture can work without flowing. On a clean face, apply the mixture on the neck, face, and not around the eyes. Leave for 20 minutes and then rinse with lukewarm water. We can apply this mask 3 times a week, in combination with the anti-wrinkle night oil mentioned earlier. If your skin is dry with thin skin and sensitive to cold and wind, add to the mixture 4 drops of rose essential oil and a little sesame oil.
These materials very rarely cause bad reactions on the skin, but if you have very sensitive skin, do a test first on a small area. Generally, know that there are natural ingredients that irritate sensitive and reactive skin. such are strawberries, potatoes, oranges, and generally those that have acids or tend to cause allergies.
The above recipes are from the excellent book "Beauty Secrets 60 + 1 natural cosmetics recipes" (Psychalos publications) by Costas Altanis.


D) Artichoke tonic masks
See artichoke skin and hair toning masks at
https://www.botanologika.gr/2015/03/me-mia-agkinara-2tonotikes-maskes-gia-derma-kai-mallia.html
Artichoke has super-antioxidant properties and can stimulate the skin and hair. After all, it is the vegetable with the most antioxidants, while it contains large amounts of vitamins A, B, C, calcium, and phosphorus. The beauty mask with artichoke stimulates blood circulation, helping to renew cells.
Mask for toning the skin with artichoke
Melt an artichoke heart with a fork, and mix with a spoonful of yogurt and 3 drops of lemon. If you want, put the artichoke in a saucepan to bring to a boil to soften it a bit and melt it more easily.
Mask for toning hair with artichoke
Heat the artichoke leaves in a saucepan with a little water until the leaves are covered. Once the water starts to boil, remove the pot from the stove and leave the leaves with their water for 3 hours. Strain and massage the scalp with this liquid. Wait a few minutes and then bathe normally.


E) Handmade face mask
A simple and easy recipe for a homemade mask to clean your face and make it radiant can be found at https://savingdollarsandsense.com/homemade-mud-mask/.
You need:
2 teaspoons apple cider vinegar soup
2 teaspoons bentonite clay soup for cosmetic use
5-6 drops of frankincense or lavender essential oil
Mix the above materials in a non-metallic bowl (plastic, ceramic or, glass) and leave for 15-20 minutes. It will become drier and tighter as it cleanses the toxins of the face. Remove with hot water. In some cases, the face may blush slightly for 10-15 minutes because the toxins have been removed. For best results, the mask is used 1-2 times a week.
Bentonite clay is probably not available at home, but it is not expensive as an ingredient and you will easily find it in pharmacies and it is the ingredient that removes toxins. Frankincense essential oil tightens the skin.


5) Remove the baking soda bags
Another recipe of botanologika is baking soda and bags in
https://www.botanologika.gr/2015/09/mageiriki-soda-kai-sakoules-telos.html
Many women talk about the beneficial properties of baking soda, house cleaning, cooking, and many other things. However, they wanted to find out how it works in the service of beauty. The most beneficial face masks contain baking soda. The recipe we present to you will remove the bags under your eyes.
In a glass of lukewarm water or chamomile tea add a teaspoon of baking soda and mix. Then take a cotton swab or a cotton ball dip in the solution and place it under your eyes. Leave on for about 10-15 minutes Wash your face and apply your moisturizer. The results will amaze you.


6) Exfoliation with orange and chamomile (suitable for dry skin)
A recipe we saw at https://soapdelinews.com/2016/09/orange-chamomile-exfoliating-foaming-cleanser-recipe
This recipe is suitable for sensitive skin. Used for exfoliation, cleansing the skin pores, removing dryness. Massage into damp skin. Helps protect the skin from some damage from ultraviolet radiation, as well as keeping the skin soft and supple.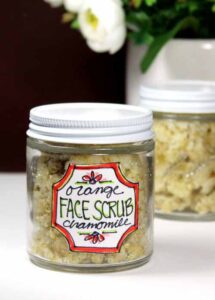 You need:
20g white granulated sugar
23g Baby Brunner's Mild Unscented Hemp Liquid Castile Soap or other pure liquid soap (ideal for sensitive skin of adults and babies)
7g sweet almond oil
1.5g castor oil
1 tablespoon chamomile flowers, ground or chamomile powder
1 ml of essential oil of orange
Orange essential oil is ideal for reducing skin inflammation as well as for removing toxins, while chamomile is known for its anti-inflammatory properties in skincare.


7) Face scrub with kiwi and yogurt
One of the simplest and easiest ideas we saw is this scrub https://www.suburbia-unwrapped.com/homemade-beauty…/
At the same time, it recommends Greek products abroad. You need 3 ripe kiwis, 4k. yogurt soup full fat, 1.5 tbsp. olive oil and 2 tbsp. orange juice. In a food processor, mix the ingredients until the result is smooth. Pour into a sterile container with a lid. Use immediately, while we can store it for 3-4 days in the refrigerator.


8) Make homemade face serum with essential oils.
We found it at https://www.desertnaturals.me/facial-serum/
It is an easy and economical way to treat your skin with nourishing essential oils. Whether you have dry, acne-prone, sensitive skin, need anti-aging wrinkle prevention, or have normal skin, you can use this homemade beauty serum. It will give you beautiful and glowing skin. Lavender and frankincense essential oils are two of the best essential oils for your beauty serum for all skin types.
You only need 3 items to make this DIY Face Serum. Bottle dropper, base oil, and essential oil. The essential oils you add to your face serum will only cost a few minutes per drop.


9) Wash your face with chamomile
A suggestion that you will find here https://www.massagegearguru.com/chamomile-face-wash/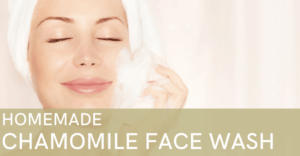 You can not do a face wash with chamomile without chamomile! There are actuall many varieties of chamomile. German (also sometimes called blue) and Roman are the most popular, but which one is best for use in face washing?
Both types of chamomile relieve pain, act as antibiotics, antibacterials, and sedatives. They also soothe the skin, relieve inflammation, calm the nervous and digestive systems and remove toxins and allergens. We prefer German chamomile for this recipe. If you have another type of chamomile that will work as well.
You do not want to have pieces of chamomile leaves in the soap, so we use chamomile tea. Not recommended for people who are allergic to pollen or to pregnant or breastfeeding mothers. You should not use chamomile if you have had breast, ovarian, uterine, endometrial, or uterine fibroids.
We choose to use Castile soap for this recipe because it is both environmentally friendly and effective. Does not contain animal fats or synthetic materials.
You can make Castile soap at home (recipe here), but to be honest I'm not sure it's worth it. It takes several hours! High-quality Castile organic soap is not expensive.
A little vitamin E oil makes the soap more moisturizing. It also helps fight the signs of aging. If you are sensitive to vitamin E, it is best to leave it at that.
When it comes to essential oils, you have many options for essential oils to use in Chamomile Face Wash. It's a personal preference, so until you find a combination you like, you can experiment.
German chamomile oil will intensify the aroma of Chamomile. It has the same benefits as German chamomile flowers. Lavender essential oil is always a good choice. The fragrance is floral and versatile. It is known to help with depression, anxiety, and even pain. Clary Sage essential oil has a refreshing scent and can help you improve your mood and also relieve the symptoms of menopause or muscle cramps. The orange essential oil will help lift your spirits. It can also help relieve pain. If you use Castile Aromatic Soap or do not want to add fragrance to your face wash, you can leave the essential oils out.
Procedure:
First, heat the water and put the chamomile inside. It is best to let it cool before mixing it with the other ingredients. Then add all the ingredients to a bowl and mix well. Then pour into a pump bottle for storage.
Put about 1/2 tablespoon in wet hands or sink. Rub to develop a little foam and then gently wash your face taking care not to get soap on your eyes. Be sure to rinse well.
We like to keep the face wash in a pump bottle for ease of use. It is best kept in the refrigerator or a dark cool place. It will take about two months.


10) Wipes for cleaning and toning mint
Cleaning wipes can be found at https://bitzngiggles.com/peppermint-cleansing-toning-wipes/
Use these cleansing and rejuvenating wipes after a long day.
You need:
Sterile glass mounting and storage jar
1 1/4 cups water
1 1/2 tablespoons baby shampoo
Cleaning cotton
1/4 teaspoon baby oil
10-12 drops of peppermint essential oil
The baby oil dilutes the mint enough so that it can be used safely on the wipes. Peppermint essential oil is the perfect addition to these cleansing wipes. It is so refreshing! They are NOT eye makeup remover wipes. The next thing is to slide one of these wipes on my face (avoiding my eyes) to get the final makeup traces (foundation, cover, etc.).
After removing the makeup, apply one of these wipes on the face (avoiding the eyes) to remove any traces of makeup. Everyone's skin is different. If you have very sensitive skin, you may want to try wiping on a very small area of ​​skin and watch out for any irritation. If you see signs of rash or irritation, discontinue use.



We gave you a lot of solutions to take care of your face and body. You have to make your choice and start using your ow materials. Keep in mind that this way you use healthier products to take care of yourself. We also have to inform you that we will keep adding products to our list from time to time and we will inform you from our social media.